I hope you're finding some bright spots in the seemingly-endless gloom of February lockdown. For me it's my weekly cuppa from Brodie's coffee shed on the way to/from work — not so much because of the caffeine as the brief illusion of normality you get from exchanging a few words with a friendly person. I'd never have imagined a cup of tea could be so exciting, but it is what it is.
Anyway, this is a place for news, so here's something. Two somethings, in fact!
Something the First: My new short story, "Diamonds and Pearls", is now free to read at Fireside Fiction. It's about love, language, and finding yourself, and it's one of the happiest things I've ever written. I hope it cheers you up, too.
Something the Second: Back in 2019, I won the Aberystwyth University Prize for a Dystopian Novella for The Word, a short and creepy piece about a fortress Britain where young people with preternatural powers are exploited as weapons of war. The Word was slated to be published in March, but the publication date has now been pushed back to October… because the excellent folks at New Welsh Rarebyte have agreed to publish the expanded, full-length novel version!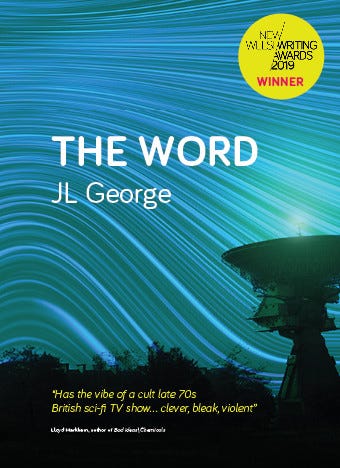 I'm very excited, and slightly terrified. Watch this space (or subscribe to my newsletter) for updates, events, and maybe how to get your hands on a review copy…